Apologizing in advance, really, this post may be long.
I received a phone call about a family from church, their son has had leukemia since he was young, 7 I believe. Now at 18, Clayton has made a decision to not go thru treatment anymore, live for today, and will go see God whenever he calls for him. I wasn't sure I could do this family session, as I am a softy and emotional. But I was told they are "the funnest family" and I knew instantly, I received this phone call for a reason – I was meant to photograph them, to capture memories that will last them f.o.r.e.v.e.r.!
So, the title of this is "An Honor" because I truly am honored to have met them. As soon as they arrived at Vina Robles Winery I knew they were fun! Zac walks up wearing the funnest old school vest and rockin glasses, Clayton with bright red leather skate shoes, Sam in cool glasses and a beaded band around her head. Mom was sporting white sunglasses and dad almost immediately bared his chest. My immediate reply was you guys have great style. fun.funky….. totally me!
They really didn't need any help for this photo session. I kinda told them where to go, like sit on this bench, and, well, they ran with it.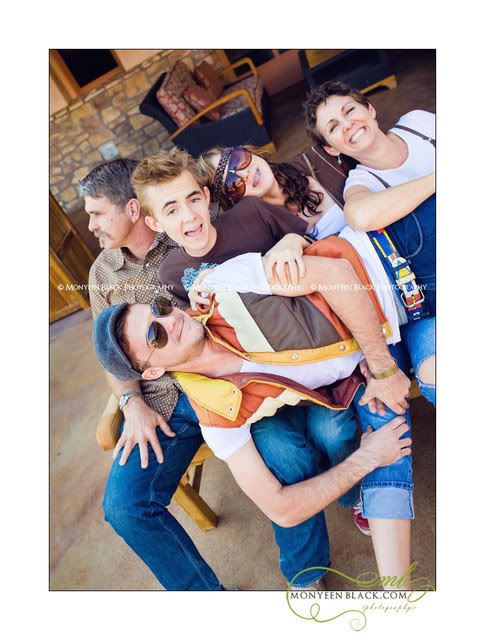 Here I said, spread out between the pillars and this is what the did:

We then headed over to Robert Hall Winery
Here I am shooting Stan & Wendy and I ask the kids to turn around and this is what they did:

I would ask simple things, like Sam, maybe lay across their laps and the boom, they all just pose and have fun.

I took this shot of the "boys" or "men" as they corrected me and the look on Clayton's face had me laughing. I show them the back of the camera and say something about how he's kinda cut off and he tells me "well, that's your fault" HAHA!

There were also more serious and posed ones to capture them all together. I told Clayton to jump on to Zac's back and for all of them to squeeze in tight, heads together. – *puffy heart*

And here I think is my most favorite "moment" I captured. It speaks to me. I know Stan isn't in it, it was Wendy with her children and look at the love, the feeling.

Truly, I am really so honored to have met you all. You made me laugh, you made me cry, you made my day! God Bless you! *hugs*
Pass along the link to your family and friends and leave me a comment below, I love to hear what people think.